Unique Objects
Exhibition objects, along with some private commissions.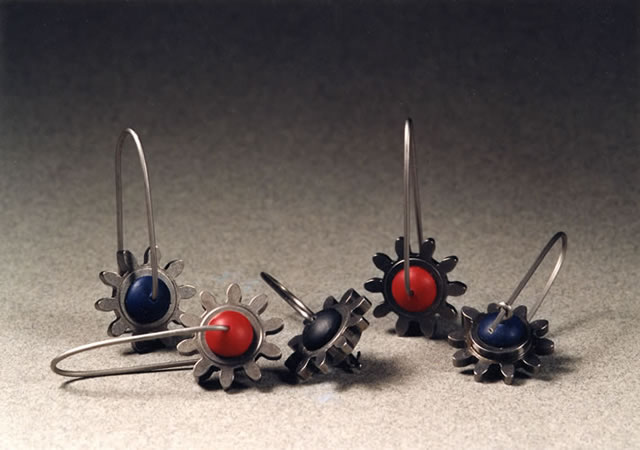 Gearrings
Earrings of gears, titanium and cernit clay, 2001.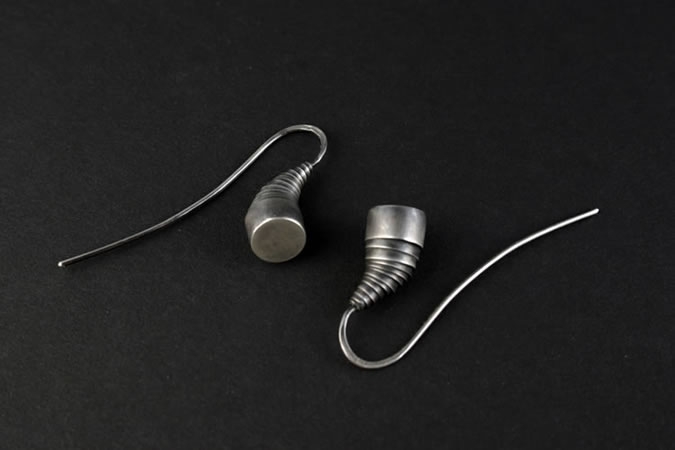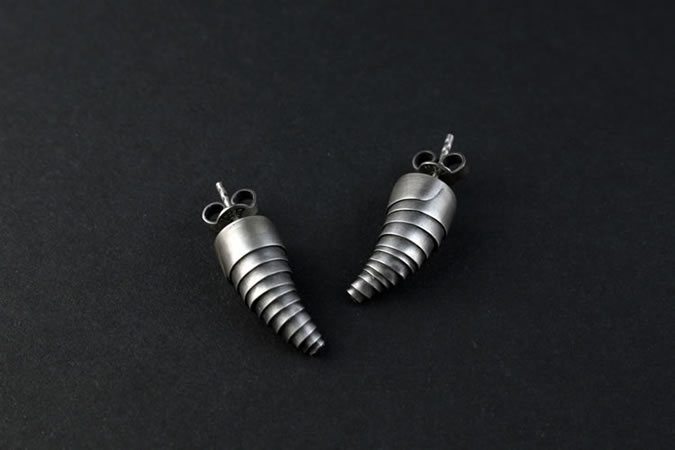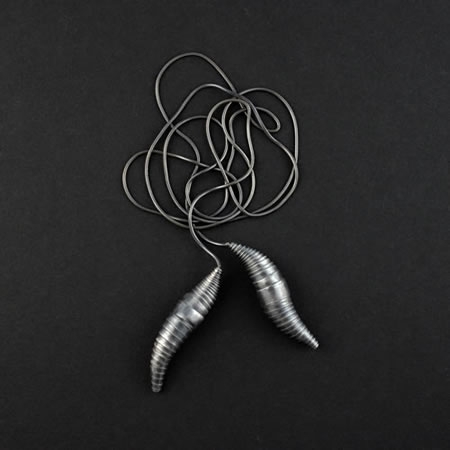 Tie necklace and earrings in oxidised sterling silver, 2005.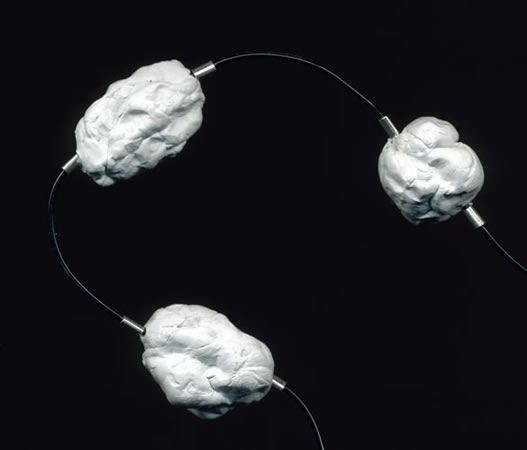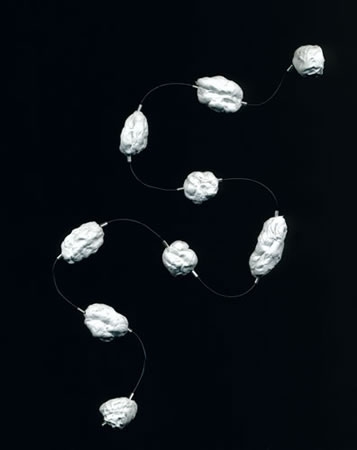 Ta't lugnt, ta en Toy
Necklace of sterling silver and various kinds of rubber, 2004.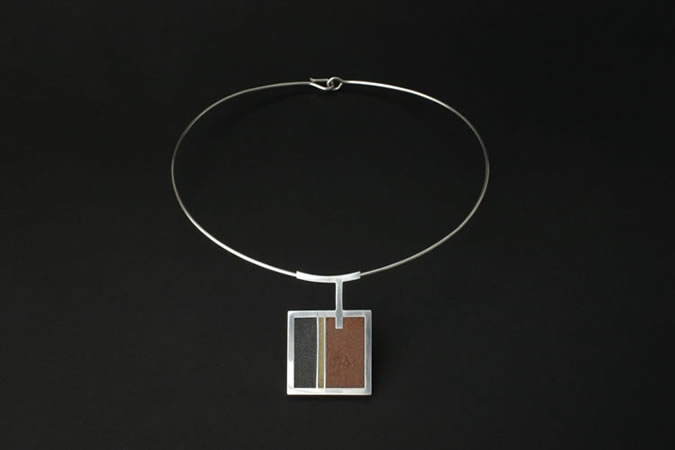 Necklace of coloured concrete and sterling silver, 2004.

Wedding rings in sterling silver and titanium, 2008. Private commission.

Ready steady go
Ring in sterling silver with interchangeable keys, in box of sterling silver and typewriter parts, 2000.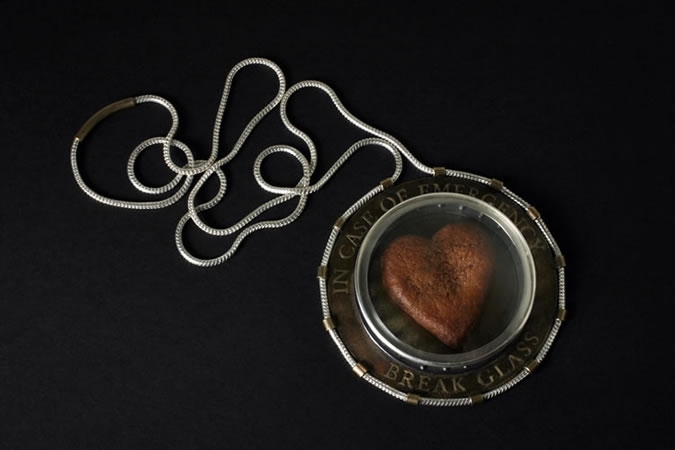 Portable emergency aid for the violent
Gingerbread heart behind glass, mounted on a brass plate with the text "in case of emergency, break glass". Rope chain in sterling silver, 2005.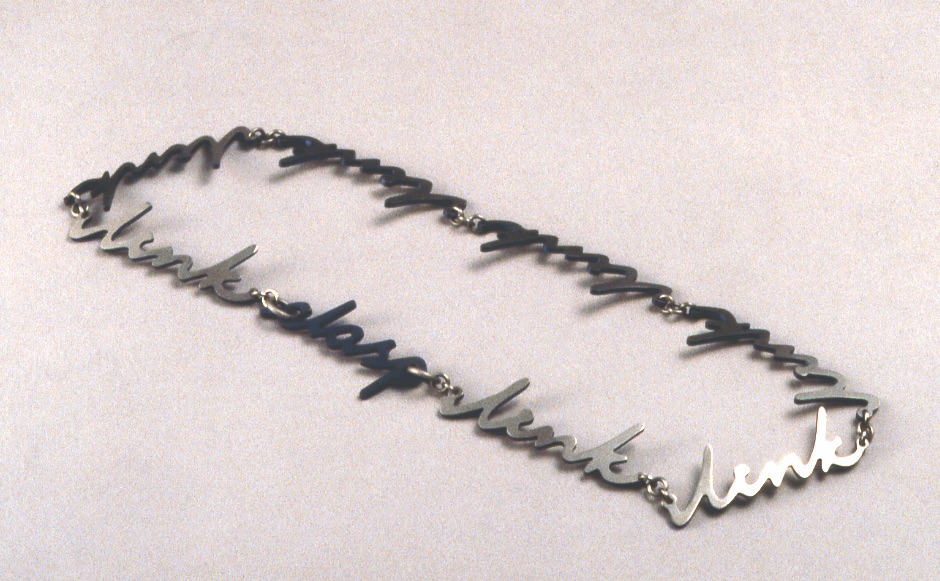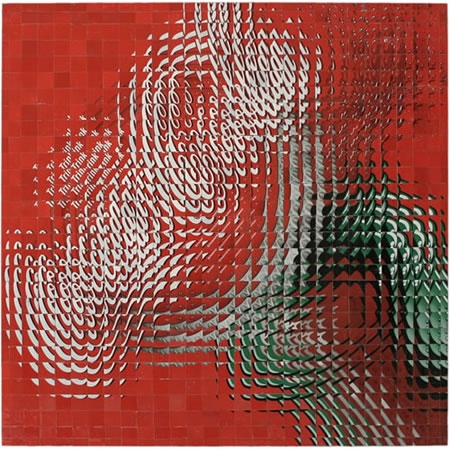 Pop
Mosaic of soda cans on chipboard.
60 x 60 cm, 2005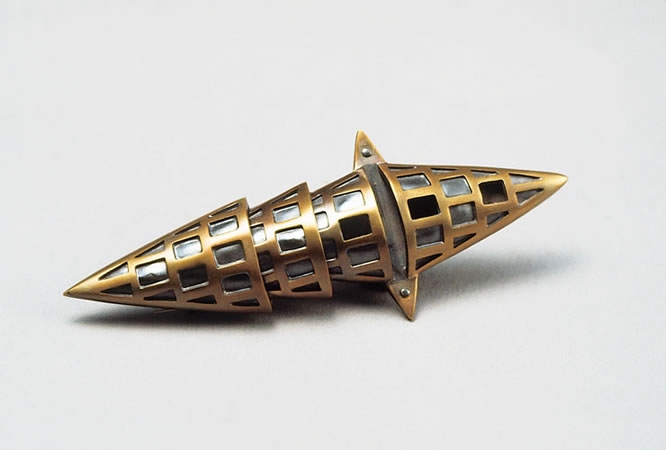 Brooch of copper, brass and nickel silver, 1993.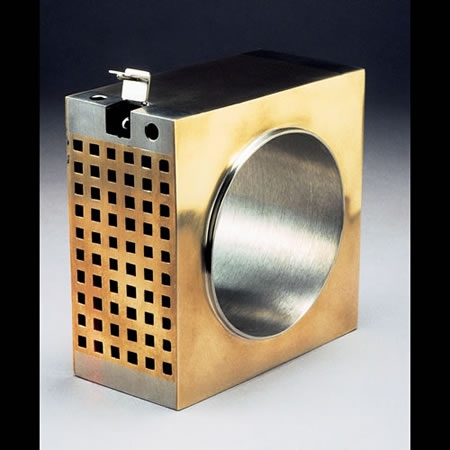 Bracelet with maze games for boring cocktail parties.
The small steel ball can be taken out of its compartment and inserted into the hole that leads to a hidden maze, which goes around the entire bracelet. With a little luck and patience, the ball then comes out into the hole on the other side.
Brass, nickel silver, steel ball. 1994.


Brooch (back and front) of sterling silver, brass and nickel silver. 1993.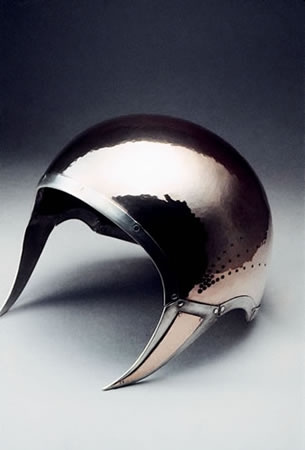 Helmet
Silver and copper, silk lined. 1994.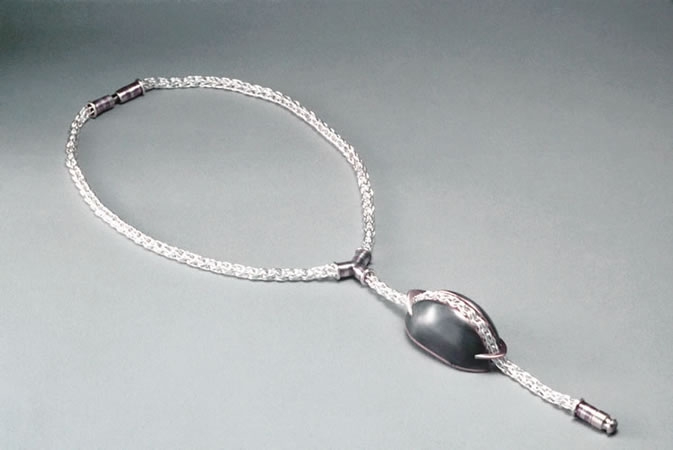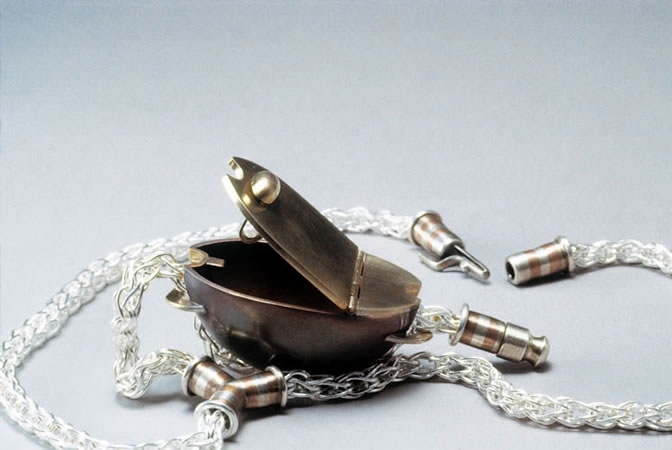 Chastity
Necklace with detachable pendant that can be opened.
Sterling silver, brass, copper,2000.

Orgy
Sterling silver necklace and cans (previously containing peeled potatoes), 2004.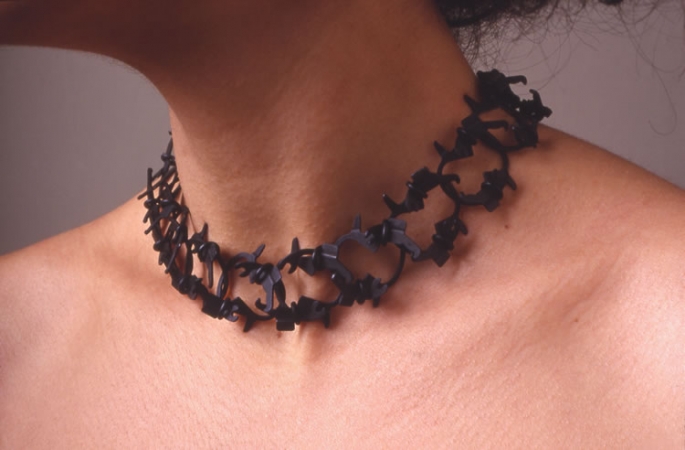 Thorn
Necklace of rubber and typewriter parts. 1999.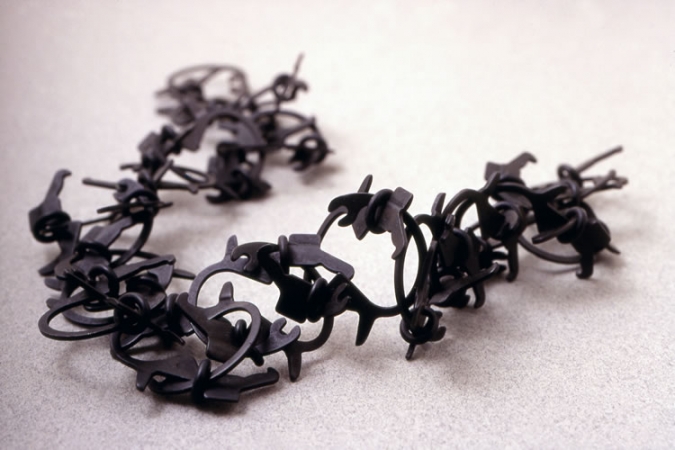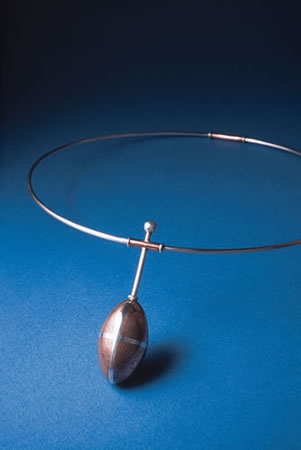 Easter eggs
Necklace in copper and sterling silver, 2000.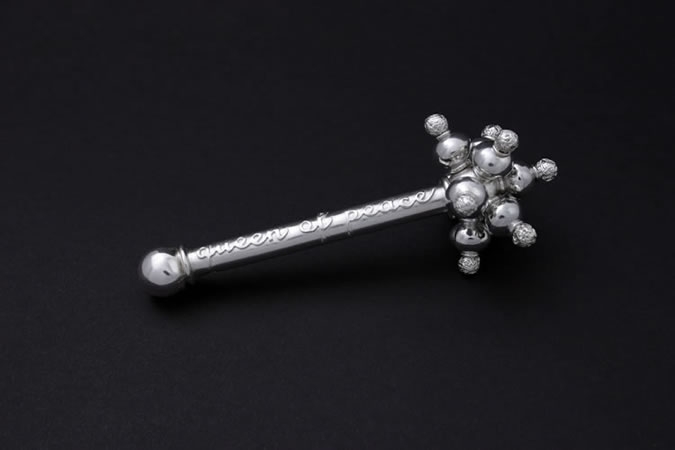 Queen of peace
Rattle in sterling silver. Length about 14 cm, 2004.

Composition with Norrlands
Mosaic of beer cans on chipboard
60 x 60 cm, 2005.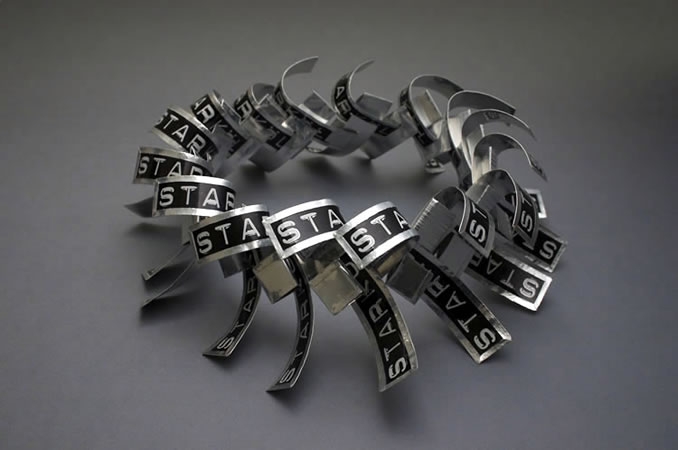 Stor stark
The whole piece of jewelery is made up of links like this. Each link locks the previous one.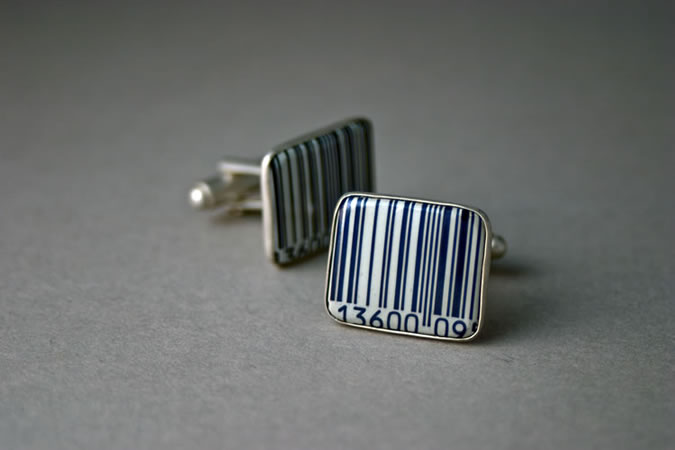 Barcode Cufflinks
Cufflinks in sterling silver and barcodes from recycled cans, 2006.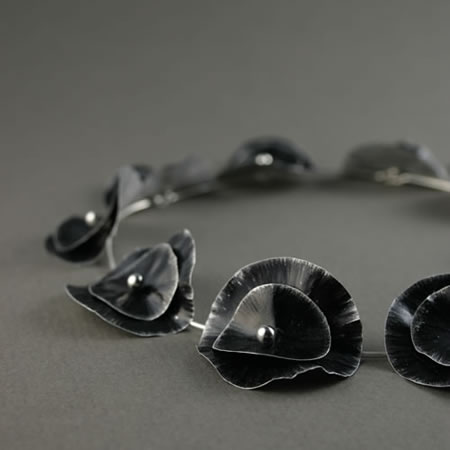 Flowers of Romance
Necklace of black beer cans and sterling silver, 2006.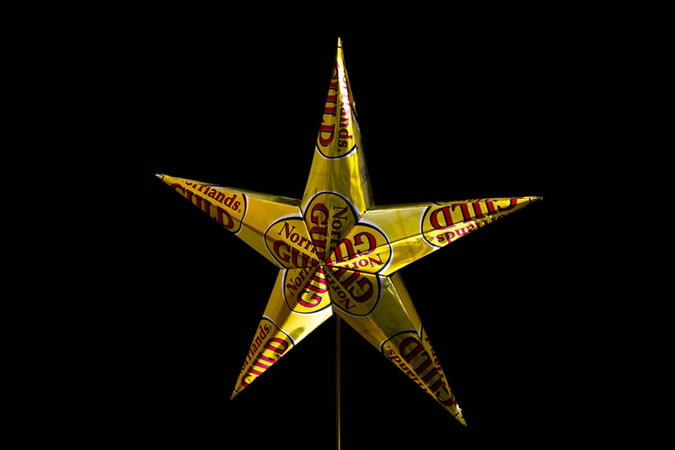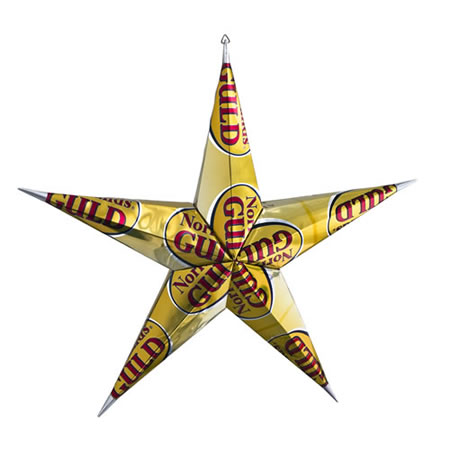 Gold Star
Top star of beer cans.
33 cm in diameter, 2008.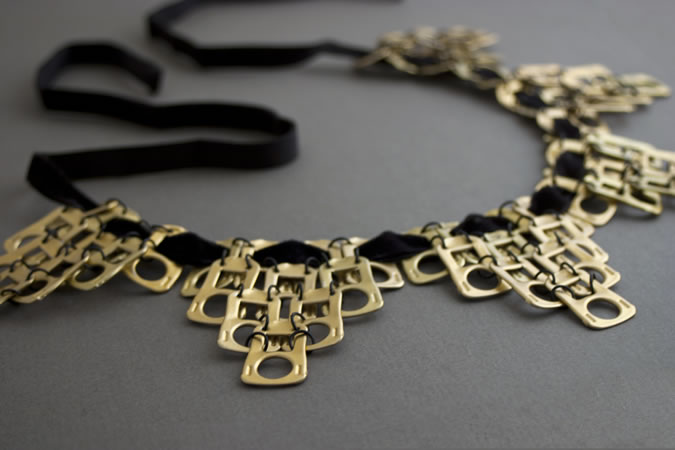 Punkbling
2007.