Hållplats Kilafors / Reststop Kilafors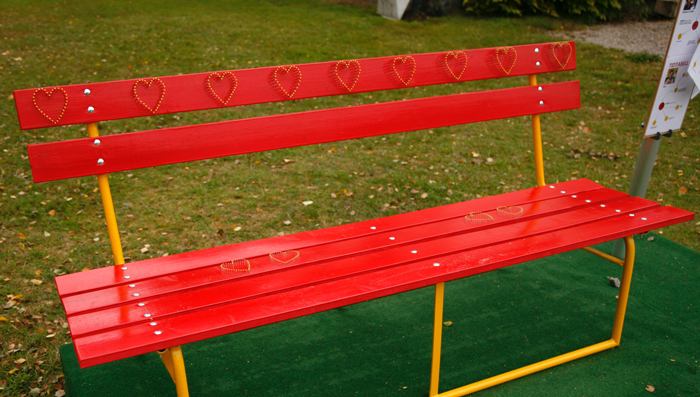 Om livsresor, väntan, förväntningar och ofrivilliga uppehåll.
En stolpe med tidtabeller och en bänk att vänta vid. Så ser vår föreställning av en hållplats ut. Men på Maria Lewis bänk blir väntan inte särskilt bekväm – den är full av spikar grupperade till vackra hjärtan. Sitter man länge får man till och med ett hjärtformat märke i skinnet. Man blir märkt av Kilafors. K-märkt.
Intervjuer med asylsökande på Kilafors Herrgård har gestaltats som tidtabeller över deras livsresor med förhoppningar och drömmar om framtiden. Hur deras liv sett ut, var de befinner sig just nu och vart de kan tänkas vara på väg. Precis som bänken är deras väntan inte särskilt bekväm. De kan inte luta sig tillbaka och slappna av.
"Reststop Kilafors" is about life journeys, waiting, expectations and unwanted delays.
A typical pole with time tables and a bench on which to wait. But Maria Lewis´s bench is not very comfortable – it is full of nails in the shape of hearts. This waiting will mark you.
Interviews with asylum seekers at the immigration camp in Kilafors have been turned into time tables of their journeys and expectations. The time tables are small pieces of personal history and a glimpse into the immigrants hopes for the future. 
But there's no leaning back to make yourself comfortable during this wait.